Light bondage … sensory deprivation … full body sensual massage and sensation play … whether you're a novice or an experienced player, I'm delighted to be your guide on a journey of exploration and erotic pleasure.
Letting go is the ultimate power …
and incredibly sensual Bondassage is unlike anything you've ever experienced or even imagined.
Lightly secured to my comfortably padded massage table, you sink deeply into your body as a selection of sensually-stimulating sounds play through your headphones.
As you surrender to the sensations and forget the outside world, I take you to a place of exquisite enjoyment ~ a place where you can indulge your senses and embrace the pleasure.
Imagine …
Imagine warm, experienced hands working their way over your body … gently kneading, touching, stroking, … Deep relaxation takes over, permeating every part of your being.
As you shed your tension, you drift into a level of profound relaxation. You're safe, you're happy, you're in complete bliss.
You emerge satiated and energized, ready to focus on your life and your work.
Immerse yourself in unimaginable pleasures … with Bondassage®
Previously unknown heights of bliss. A slower, softer version of Bondassage (the focus is on devastatingly slow, connected, innovative massage). Elysium stretches your erotic boundaries, transporting you to a new realms of pleasure.
Focusing on your sole satisfaction, using a unique combination of ancient esoteric massage techniques, Elysium combines a mesmerizing sequence of extraordinary touches, enticing all of the senses. Expertly controlling your state of blissful relaxation, Elysium provides a multi-dimensional experience designed to expand your sensory boundaries.
Elysium focuses the senses, alternating soft brush strokes, excruciatingly slow massage and expert caresses with soft, silk bondage, and sensory focusing tools. Elysium brings you the ultimate sensual experience.
"In Greek mythology, only those specially favored by the gods entered Elysium and were made immortal…"
Experience the ultimate in innovative body play. Elysium raises the bar of bearable bliss to new and untried peaks. Designed to massage enthusiast seeking the ultimate test of self control.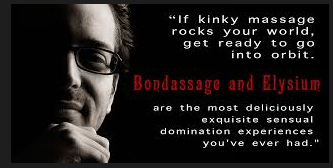 "Elysium surpassed my expectations! The most thrilling experience ever!"
"If the best bodywork of your life, punctuated with delicious sensory play while blindfolded and strapped down to a cushy massage table sounds appealing, you must try Bondassage … It's a feast of delicious sensations, from deep relaxation to highly skilled touch … the combination of virtuoso touch skills, body percussion, submission, sensation play, and sensory deprivation will take you to places you've never been before. It's like nothing I'd ever experienced … Words simply cannot describe it. As powerful as any dream fantasy I've ever had."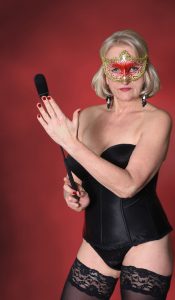 Hello and Welcome to the home of the Nordic Goddess!
I am excited to introduce you to the world of Bondassage and Elysium. I work from my private studio near Oakland, New Jersey.
I am trained in a number of modalities that inform my sessions: Sensual Massage, Tantra, Sexological Bodywork, Reflexology, BDSM and Reiki. I am fully trained and certified in the Art of Bondassage and Elysium by Jaeleen Bennis, the creator of this unique and innovative style of sensual body work, and I am one of her East Coast Trainers.
Visit my page on the Bondassage Website: https://www.bondassage.com/nordic-goddess/
Include the following information:
1. Full Name
2. Phone number
3. DATE, TIME and LENGTH of session you are requesting.
4. Best time to TEXT you to schedule a call.
5. NEXT, send me ONE of the following:
-Your established online presence through LinkedIn
-Your name and work phone number
-An email sent from your work email
OR Your full name, city you reside and selfie with you holding up your driver's license
Once I have verified you, I require a brief phone conversation with you before scheduling your session.
I look forward to meeting you soon!
The Nordic Goddess
Location
Oakland, New Jersey
Availability
Weekdays during the day and evening. Some weekends with appointment.
Email: nordicgoddess11@gmail.com